The Dogon people are an indigenous tribe who occupy a region in Mali, south of the Sahara Desert in Africa. There are about 100,000 members in the tribe.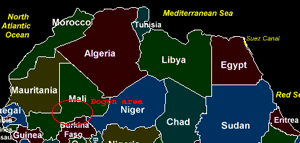 They are believed to be of Egyptian descent. After living in Libya for a time, they settled in Mali, West Africa, bringing with them astronomy legends dating from before 3200 BC. The first Western scientists to visit and study the Dogon people were French anthropologists Drs Marcel Griaule and Germaine Dieterlen, who initially made contact with them in 1931, and continued to research them for the next three decades, culminating in a detailed study conducted between 1946-1950. During their work, these anthropologists documented the traditional mythology and sacred beliefs of the Dogon, which included an extraordinary body of ancient lore regarding Sirius ­ the brilliant, far-distant Dog Star.
Their priests told them of a secret Dogon myth about the star Sirius (8.6 light years from the Earth. The priests said that Sirius had a companion star that was invisible to the human eye. They also stated that the star moved in a 50-year elliptical orbit around Sirius, that it was small and incredibly heavy, and that it rotated on its axis.